Beauty salon
The hair and beauty salon gives the opportunity to our guests to relax and leave the everyday stress behind.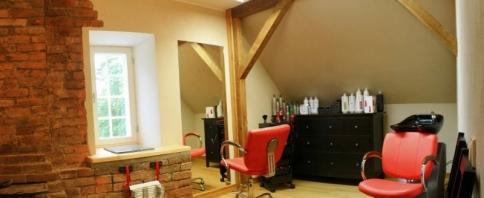 Hair salon provides following services:
HAIR SALON SERVICES
CHILDREN
Haircut (up to 10 years old)
Haircut for School Children

MEN
Harircut with Shampoo and refinement
Haircut without Shampoo
Haircut for Seniors

WOMEN
Fringe cut
Shampoo + Blow Dry
Haircut for Short Hair
Haircut for Medium Hair
Haircut for Long Hair
Haircut for Seniors

UP DO´S
Up Do – Blow Dry, Flat Iron (short hair)
Up Do (medium hair)
Up Do (long hair)
Formal Up Do
Bridal Up Do

COLOURING
Colour touch up (roots)
Colouring (short hair)
Colouring (medium hair)
Colouring (long hair)

NB! The prices may change for persons with extra long hair!
Colouring with clients colour
Colour Removal

HIGHLIGHTS
Colour touch up (roots)
Highlights (short hair)
Highlights (medium hair)
Highlights (long hair)

NB! The prices may change for persons with extra long hair!
PERMS
Perm (partial)
Perm (short hair)
Perm (medium hair)
Perm (long hair)

VOLUME CURLS
Short hair
Medium hair

We are also making keratin care!
Hair salon is open T, W, T and F from 10.00 to 18.00
Saturday and Sunday only on previous reservation!
BEAUTY SALON SERVICES
BODY TREATMENTS
Partial Massage for Back
All Body Massage 45 minutes
YUMEIHO THERAPY
The main aim of the Yumeiho therapy is to correct the pelvic bones position and to set the vertebral column properly, and thus to mobilize the autotherapeuticforces of the organism and to reach cause of pathological state.
Yumeiho is a therapeutic system consisting of a number of procedures (depending on a pathologic state).
One procedure lasts for about 60 minutes during wich a therapist uses 100 different techniques. They include, in the first place, massage by kneading and compression, and mobilization of the joints carried out in an original and pain-free manner.
Yumeiho is a very effective therapy in the following morbid states:
spinalgia
arthralgia
discopathy
spondylolisthesis
migraine
myalgia
obesity
difference in length of lower extremities
algomenorrhea
assymetries ofthe skeletal and muscular system
Beauty salon gift certificates available!
Book a suitable time +52 00 532